The packaging of your goods should always be suitable fit for purpose.
The old-fashioned term "seaworthy packaging" originally described measures that were necessary to meet the protection requirements of the packaged goods, taking into account the following aspects:
Type of transport
Travel duration and intended transhipments
Intended interim storage
climatic conditions during transport or in the country of destination
These measures were generally designed for shipping by conventional maritime transport, which today is the exception to the norm. Nowadays, loading takes place in overseas containers. As a result, seaworthy packaging no longer necessarily has to comply with HPE packaging guidelines, but instead requires packaging that is suitable to the stresses to which it is subjected. This can, for example, be the packaging intended for transport by truck.
We have salvage packaging available as standard material. In addition, our packaging specialists can correct insufficient packaging or repair damaged packaging before loading.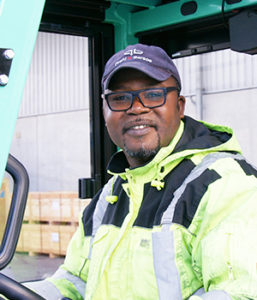 Koffi Dossou
Born in Togo, Koffi found his home in Germany twentyone years ago. For the last vour years he has been stowing goods for import and export at P&B as a forklift operator. In his spare time, he is a family man and enjoys cycling tours with his wife and two children and is a devoted football fan.