P&B's original focus was on consolidated import containers. Overseas containers arriving in Hamburg were unloaded at our handling facilities.
Today, customers can access the Internet
keep up to date on changes in status of their containers and the goods therein at all times
inform you about our Infogate or by e-mail if you wish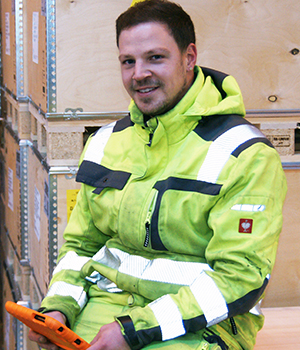 David Lee Obst
After training as a classic tallyman and then turning his hobby of "fitness trainer" into his profession, he has been working as a sea freight inspector and checker at P&B for more than 6 ½ years. His hobby is still, of course, fitness.
Export
The product portfolio was successfully expanded in 2012 to include the product "Packing of export containers"
Groupage goods are packed in ISO standard containers according to the customer's requirements, space-optimised
We enable a time-optimised packing process through complex connections to the port telematics of the ports in Hamburg and Bremerhaven
Consideration of different completion dates for VGM or FCL deadline for charging
direct communication from the system (EDI) or via e-mail